This course introduces students to aspects of human anatomy that are especially relevant to procedures encountered in surgical practice and radiological imaging.
Course rationale
The NST BBS Minor Surgical and Radiological Anatomy at Part II helps to prepare for safe surgical and radiological practice.
The need for a good working knowledge of anatomy in safe surgical practice and interventional radiology is evidenced by the increasing number of medicolegal negligence claims due to errors resulting from ignorance of the location of key anatomical structures and the existence of common anatomical variations. Postgraduate membership and fellowship examinations of the Royal College of Surgeons and the Royal College of Radiologists include a number of OSCE stations to test a candidate's knowledge of relevant clinical anatomy.
In addition, applicants for Core Surgical Training and Specialty Radiology Training may improve their scores in the "Experience in and commitment to specialty" component by having chosen to take a relevant module, such as the BBS SaRA.
The course also provides the opportunity, subject to availability, for students to attend operating theatre sessions, or to spend time with radiologists in interventional and/or reporting sessions, thus widening their experience and enabling them to see at first-hand how these specialties operate on a daily basis.  As an alternative, students may complete an anatomical prosection from a list of available specimens. 
Course content
Twelve lectures are delivered by Consultants at Addenbrooke's Hospital and the Royal Papworth Hospital to prepare students for the practical aspect of the course.  These ensure they have relevant anatomical knowledge on a particular anatomical region which will inform what they are looking at during the procedure, as well as short and long-term complications that may ensue.  Each lecture will focus on either the surgical or radiological approach for a significant clinical area.  Lecture titles include, for example, 'Surgical Anatomy of the Maxillofacial Tissues', and 'Radiological Anatomy of the Female Pelvis'.
Students will have the opportunity to choose one specific practical session (only) in either surgery, radiology or anatomical prosection. Choices will include either:
OPTION 1: Attendance at operating theatre sessions, researching and recording  procedures seen with discussion of preoperative preparation and postoperative complications, conducting and writing up a literature review pertaining to the procedure and/or evaluation of relevant research on the subject, OR
OPTION 2: Attendance at diagnostic and/or interventional radiology sessions, researching and evaluating  the challenges for specific regions, conducting  and writing up a literature review pertaining to the procedure and/or evaluation of  relevant research, OR
OPTION 3: Preparation of an anatomical prosection from a list of available specimens, researching, conducting a literature review, and writing up known variations and potential pathological conditions.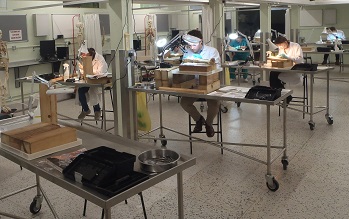 Assessment
Assessment is by coursework. There is no final examination. 
Percentages of final marks are shown below:
Short Answer Questions paper (1 hour) to assess comprehension of lecture programme regarding anatomical regions and interventional principles (20%).  The first Wednesday of Full Lent Term. 
Report: 2,500-3,000 words on operating session theatre/radiology session attendance or prosection, including literature review, evaluation of research, imaging modality, anatomical variation, prosection technique and pathological conditions. To be submitted on the last day of Lent Term (50%).
Individual presentation: 5 PowerPoint slides (20%) to accompany an oral presentation (10%) on the practical session(s) content.  Presentations to be given in Week 2 or 3 of Full Easter Term.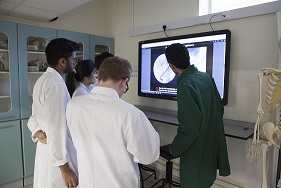 Selection criteria
Prerequisites: Functional Architecture of the Body in MedST IA and Head & Neck Anatomy in MedST IB.  NST and VetST students may apply showing experience and interest in studying anatomy in a written statement (500 words).
For MedST, the highest ranking candidates at examination on the prerequisite anatomy courses FAB and HNA will be accepted (as a weighted average of the two course marks).  Other applicants will be assessed on the basis of academic performance and a statement.
As the number of students attending the operating theatre and radiological sessions will be capped, students will be required to submit their preferred practical option, ranked 1-3.   We will place as many students as possible with their first or second ranked choice using their average FAB/HNA pass mark as a guide to determine precedence if necessary.
Timetable
Michealmas:
Lectures weeks 3-8, Mondays 14:00-15:00 & Tuesdays 16:00-17:00
Skills session, Wednesday week 8, 12:00-13:00, preparing for the practical
Lent:
Skills session, Tuesday week 1, 14:00-15:00, preparing for the presentation
Short Answer Question exam, Wednesday week 1, in the afternoon
Students should also be available for at least two of the following times per week for surgery/radiology clinics or prosecting in the Dissection Room (up to 8 hours in total): Tuesdays, 14:00-16:00; Wednesdays, 15:00-17:00;  Fridays, 15:00-17:00
Easter:
Presentation assessment, Wednesday week 3, in the afternoon
Course organisers
Dr Cecilia Brassett and Dr Helen Taylor (University Clinical Anatomists)
Please contact hacteaching@pdn.cam.ac.uk with any queries.